As 2021 begins, Americans have become more hopeful for a return to normalcy – vaccinations, economic recovery, and growth have contributed to a mostly positive outlook. This positivity reverberated through the retail industry as the U.S. continues to find its stride in the "next normal."
With vaccination rates increasing every day, consumers have started to resume their pre-pandemic habits. This confidence was exemplified as retail sales increased by 5.3% in January, which was the largest monthly increase since June. As consumers felt more comfortable shopping in-store, total consumer foot traffic YOY saw the strongest gains in January and February and was only down between 2% and 20%, depending on the state. The apparel and accessories category is seeing higher levels of spend, as people are traveling more and comfortable/casual fashion is being swapped for "go-out fashion."
Responding to the e-commerce boom we saw in 2020, several different social platforms have adopted social shopping. Newer platforms like Facebook Shops, shoppable video, and Clubhouse have gained popularity as a way for consumers to interact with brands indirectly. This being said, direct mail has remained a popular choice for digital, emerging, and heritage brands. As costs of digital advertising continue to increase and data privacy issues rise, it has become increasingly difficult for brands to tell their full story without continuous spending, and brands are turning more to print. Many brands continue to see some success in key digital channels such as search and social, but costs are rising as fashion/apparel companies are competing for wallet share during the spring season.
A Dynamic Duo
DTC and digitally native brands are finding new ways to sell offline and in-store. These brands are already pros at selling online, but they have increasingly found value in selling goods offline, as the high marketing spend necessary for strictly online sales can inhibit profitability. Wholesale retailers are partnering with more desirable, DTC brands in order to build relationships with new consumers and drive foot traffic. For example, Target and Nordstrom have built robust relationships with DTC brands like Harry's, Function of Beauty, Away, and Thinx. The relationships between these two retail powerhouses also influence the wholesaler's private label designs. Other household names like West Elm and Crate and Barrel are partnering up with DTC brands Bloomscape and Parachute, respectively. Both parties, DTC brands and wholesalers, are working together to build profitable relationships for the long haul.
Brands Text Back
Consumers have continued to adopt a "mobile-first" mindset, as 56.7% of consumers primarily use their mobile device when shopping online; thus, it is increasingly important for retailers to have seamless mobile experiences. Brands have recently acquired new customers due to stimulus checks and new purchasing behaviors, and retaining these new customers is crucial. Since SMS is an effective tool for customer retention, SMS marketing is predicted to increase by 40% in 2021. SMS is also a good way to decrease cart abandonment, announce product launches and cross-sells, and act as a customer service line; 70% of consumers are likely or extremely likely to connect with brands via SMS to receive customer support. It is no surprise that SMS will gain traction in 2021 as another extension of retailers' marketing mix. 91% of consumers are interested in signing up for SMS communications from brands, but few offer it. As a result, 60.8% of brands plan to increase their SMS budget in 2021 with the market set to grow to $83B in 2024.
Physical Retail Redesigned
COVID-19 has forced physical retail to get a makeover. As consumer habits have shifted from leisurely walking around the mall to craving convenience and efficiency in shopping practices, like curbside pickup, the overall shopping experience is heading toward significant change. This change does not necessarily mean that physical retail will decrease. For the first time in years,retailers plan to open more stores than they are closing; year to date, retailers in the U.S. have announced 3,199 store openings and 2,548 closures. That being said, about a quarter of U.S. malls could close over the next three to five years if they do not change their tenant mix to include hotels and luxury residences. Department stores like Macy's and Bloomingdales are opening off-mall concepts, Market by Macy's and Bloomies, respectively, to meet their consumer where they are. Similarly, "stores within stores" have gained popularity with partnerships including Sephora in Kohl's, Ulta in Target, and Apple in Target.
Q1 Digital Creative Trends
We saw brands use their voices regarding topics like gender equality, racial equality, and sustainability. We also saw brands start to acknowledge a new normal which 2021 will bring.
International Women's Day
Pottery Barn and Banana Republic focused on partnerships and donations this International Women's Day, while Interflora visualized gender inequality statistics through bouquets, and Knix's messaging instilled hope for women everywhere.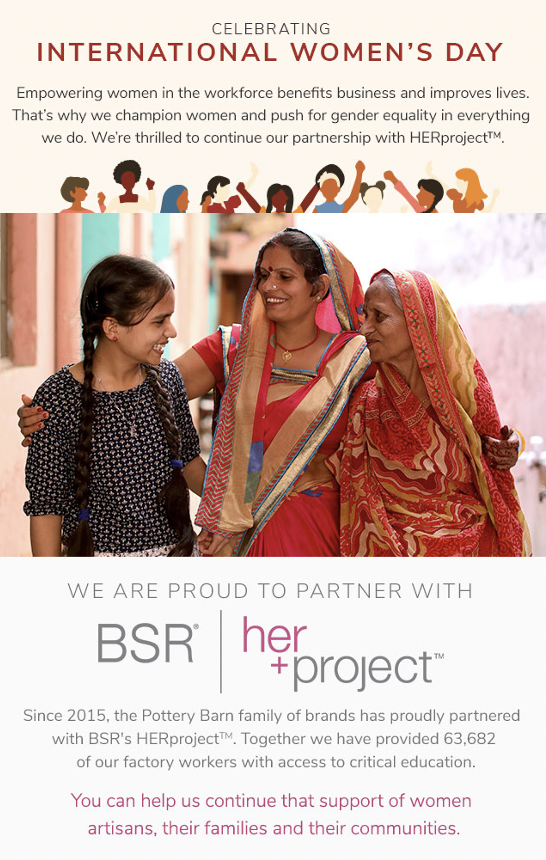 Brands Take a Stand
Hero Cosmetics spoke out against anti-Asian hate crimes, and Adidas Golf begins its journey to end plastic waste.
Spring Has Sprung!
Retailers prepare for spring closet cleaning as American's dress to get out of the house this season.
Our New Normal
Suit Supply had a risqué approach to the new normal, whereas Nation reminds us that WFH has become a part of our everyday life.
So, what's to come for the rest of 2021? 2020 shook up the retail world and consumer habits, and we will continue to see new shopping behaviors take hold. Global e-commerce will continue to boom and is expected toreach over $2.7 trillion in 2021. Amid successful vaccination rollouts and pent-up demand, overall retail sales are expected to grow between 6.5% and 8.2% in 2021, which will amount to more than $4.33 trillion in sales. The outlook is optimistic, and if retailers continue to embrace digital acceleration and adjust to new consumer behavior, the industry will see success.